"Call my Bluff" and that's Anwar way of telling most of his political alliances or opponents. Everyone including the aunties,uncles and man on the street was scrambling to know the TRUTH or WAS THIS ANOTHER DARE by the SEPTEMBER MASTER ANWAR which even Earth,Wind and Fire "masterpiece song" would have been shamed. Sorry!!! Ya..
Hey hey hey
Ba de ya, say do you remember?
Ba de ya, dancing in September
Ba de ya, never was a cloudy day"
Anwars song would be………………
Do you remember the day 16th September.
Politics a day to remember . I hatched a possible takeover that day. The phones were ringing. The key was Possible PM as WE ARE SINGING and dancing all the way to Putrajaya. Remember that day.
Now we have 23rd September 2020
Ba duda, ba duda, ba duda, badu
Ba duda, badu, ba duda, badu
Ba duda, badu, ba duda.
Anyway we picked this up from an internet portal which we post up just to tickle our political brain juices which needs recharging after dancing the night away with our SEPTEMBER MASTER ANWAR.
(EXTRACTED IN FULL with Thanks)
What are the possible scenarios following 'Anwar Move'?
Following the shocking announcement by PKR president Anwar Ibrahim that he has secured the support of a substantial majority of MPs in parliament, several scenarios are on the cards.
Even if Anwar's announcement that he has enough support to form the government is true – and that is quite an assumption given the rush by Umno MPs to deny it – this does not necessarily mean that he will become Malaysia's ninth prime minister.
1) Muhyiddin wins back support, continues his rule
If Umno president Ahmad Zahid Hamidi's claim that many from Umno and BN are now supporting Anwar is true, then Muhyiddin has lost his majority support to continue his Perikatan Nasional (PN) administration.
His majority, after all, based on the speakers vote on July 14 of 113 to 109, appears to be a very slim count of two MPs. Zahid's statement would seem to indicate that Muhyiddin has lost his majority for now.
However, while Anwar is waiting to be given an opportunity to seek an audience with the Yang di-Pertuan Agong Sultan Abdullah Sultan Ahmad Shah, who is in the hospital, that gives Muhyiddin a window of opportunity to win back support for his camp.
He has the advantage of being in power and in a position to make deals to secure support. Anwar on the other hand has been in this situation on several occasions in the past and has always been thwarted.
The most conclusive way in which Muhyiddin can prove his support is definitely through a vote of confidence conducted in the parliament. A mere joint statement by various party secretary generals does not prove his majority support.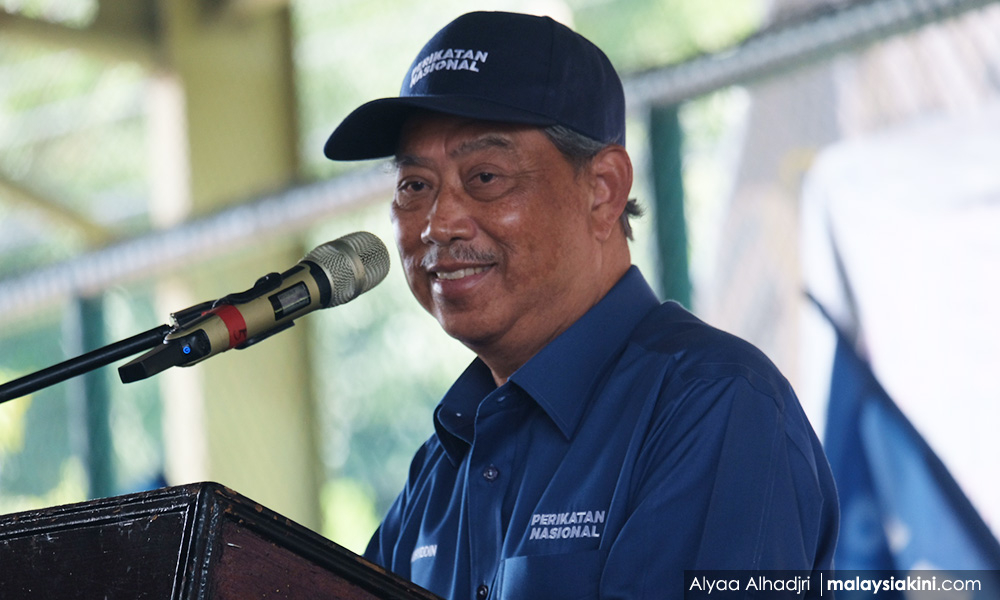 It is notable that Parliament is not due to meet until Nov 2.
2) Muhyiddin dissolves Parliament, calls snap election
Should Muhyiddin try and fail to recoup some of the lost support, he may decide that the best course of action is to advise the King to dissolve Parliament, paving the way for fresh elections.
It is believed that this will be the last resort for Muhyiddin, as a snap election called at this time will not necessarily be in Bersatu's favour because there is no guarantee that Umno/BN and their PAS allies may will align behind him and his party.
Despite helming the government and providing Malaysia with its current and previous prime ministers, Bersatu's grassroots pull is not believed to be able to match that either of Umno and PAS nor that of Anwar's Pakatan Harapan coalition.
Furthermore, the decision of whether or not to dissolve parliament entirely lies in the hand of the King.
Should the King be of the opinion that holding an election while the country is facing the Covid-19 pandemic is inadvisable, then he may reject the advice. Notably, other nations such as South Korea and Singapore have carried other elections, while the Sabah state polls are due to be held tomorrow.
Should the King opt to dissolve parliament, this may happen shortly after the Sabah state elections, in which case Muhyiddin's PN administration may prove to be the shortest-serving government in Malaysia's history should he fail to win the ballot.
3) King allows Anwar to prove his majority
A final scenario would be one in which the King decides to grant an audience to Anwar (or anyone else who can prove they have enough seats to form a new government.
In such a scenario, the King may choose to carry out the same vetting process he did earlier in the year – in which he personally spoke to all the MPs to gauge their support – before he is satisfied to appoint a new prime minister.
If Anwar finally succeeds in establishing his majority and it is accepted by the King, the Port Dickson MP will finally become the ninth prime minister of Malaysia, not to mention the third one to serve this year.
end.
ISNT THE MONTH OF SEPTEMBER INTERESTING?
Ba de ya, say do you remember?
Ba de ya, dancing in September………………………..